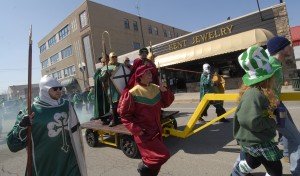 When it comes to the 105-year-old St. Pat's celebration at Missouri S&T, the students know a little something about keeping traditions. Whether it involves bashing snakes, painting streets or parading through downtown Rolla, they have the St. Pat's tradition down to a science.
Hoping to start a "new" tradition is Robert Hribar, a senior lab mechanic in mechanical and aerospace engineering at Missouri S&T. In 2012, Hribar was named an Honorary Knight of St. Patrick by St. Pat's Board. In tandem with the board, Hribar has been working on a modified rail handcar capable of traveling on roads.
"I'm sure that this will be a 'new, old tradition' in the St. Pat's celebrations," Hribar says.
In the early days, St. Patrick arrived in Rolla via a rail handcar, but that tradition was derailed in 1996 because of safety concerns.
"I looked and looked at the old handcar we had received, and kept pondering about how I could get the cart to be street ready, how to steer it and even just how and where to start the project," Hribar explains. "It was difficult to figure out the steering mechanism and we had to get the wheels wrapped in vulcanized rubber."
St. Pat arrived in town today on top of his new handcar, ready to oversee the last day of Follies.
"Last year was great, being an honorary knight and all. There was more to it than I had imagined," Hribar recalls. "I'm going to attend this year too, just for the fun of it."