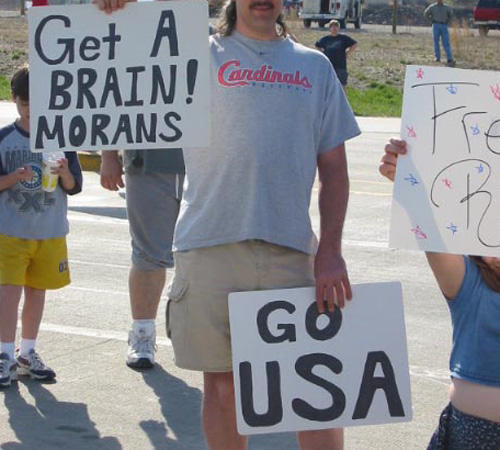 Tomorrow is Super Tuesday, which is not to be confused with Burrito Friday. Since it's difficult to spell out the huge implications for all of us in Missouri, let's just say that the important thing about Super Tuesday — apart from the fact that it will go a long way toward deciding who the next leader of the free world is — is that it means we're only 30 something days away from the 100th celebration of St. Pat's in Rolla. Just think about all of that history. Kind of makes you proud, doesn't it? Go Cardinals!
P.S. We'll have an announcement about the 2008 Honorary Knights of St. Patrick pretty soon. We're working on it.
P.P.S. If you're reading this blog tomorrow/Tuesday, that means tomorrow is today, which makes today Super Tuesday. Vote early and often.
Disclaimer: The photo above was obviously taken during the summer or in a warm climate, which means the photo really doesn't have anything to do with Super Tuesday in Missouri or St. Pat's in Rolla. For those of you who are Cardinals fans, however, we apologize for approving this message.