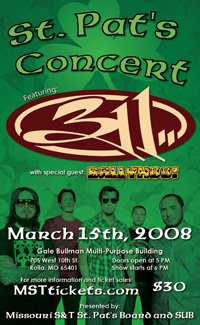 The modern rock band 311 will headline the annual St. Pat's Concert in Rolla on Saturday, March 15. Ballyhoo! is scheduled to be the opening act.
The concert, which begins at 6 p.m., will be held at the Gale Bullman Multi-Purpose Building, located at the corner of 10th Street and Bishop Avenue on the Missouri University of Science and Technology campus in Rolla.
Tickets go on sale for $15 to students only on Monday, Feb. 4. Students may buy student and general public tickets ($30) starting Thursday, Feb. 7. Beginning Saturday, Feb. 9, tickets will be made available to the general public.
Tickets will be sold at the Leach Theatre Box Office in Castleman Hall and at the St. Pat's sales table in front of the Missouri S&T Library. For more information, go to http://MSTtickets.com.
311 incorporates a variety of music styles, including hip hop, alternative rock, punk, reggae and funk. Since the band's self-titled album in 1995, 311's singles have received significant radio play and the group has had success on Billboard's Modern Rock Tracks chart.
The Rolla concert, which is part of Missouri S&T's annual St. Pat's Celebration, is sponsored by the St. Pat's Committee and the Missouri S&T Student Union Board.
Those attending the concert with student tickets will be required to show Missouri S&T identification at the door. For additional details, email concerts@mst.edu.